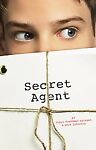 I don't know if Robyn Freedman Spizman, or Mark Johnston, or the two of them together realized it would be fun to play with the words "secret agent," but as a team they have penned a fun, clever middle grade novel. I don't want to give away the story of Secret Agent
(Simon & Schuster, 2005), but suffice to say there is mystery, a touch of romance, and a bunch of very smart kids who work hard to help the main character, Kyle Parker, find a way to get his dad's much-rejected manuscript published. I enjoyed the clues which the authors dropped along the way, the red herrings, and the unique ways they described what was going on inside the characters. Check out this description of how Kyle's father feels when he meets a big time editor who wants his book: "Well, you can imagine the craziness going on inside Kyle's dad's body. It was like all of his organs decided to switch jobs. His belly was beating. His heart was hungry. His lungs felt like they might die of thirst. Something was up. Something big." p. 219

I'd recommend that teachers use this book to teach voice since the narrator has a very distinctive way of telling the story. It may be a quick read for some students, but both boys and girls will enjoy the plot twists and humor. Writers of all ages will enjoy the inside references to the publishing world. I look forward to reading Spizman and Johnston's next collaboration, Secret Agents Strike Back (Atheneum, January, 2008).
Technorati Tags:
teaching writing, book for boys and girls